Leaflet Distribution
Our partners "LeafletPoster" offers you high quality distribution services at a competitive price. Our teams of posters work exclusively for us, so we know that we can offer you the a fast reliable service and for your peace of mind (and ours) our posters carry GPS trackers which record their position every 5 seconds these are then uploaded on to the ManageMyPost (based in Australia) server and turned in to tracks displayed on a Google map. You will be sent a personal link to the website and any job that we do for you will be shown and should you like to share the information with colleagues just let them have the log in details and they can view it too. ManageMyPost also analyse the data and give it work a confidence rating which they display in the bottom left hand corner of the tracking screen, Leafletposters confidence level is always High.
A leaflet or flyer has about a 10 second life if it does not catch the clients imagination in that 10 seconds the likelihood is that it will end up in the bin, despite this you see the same company leaflets coming through your door time after time, so why do they do it?

BECAUSE LEAFLETING WORKS
as long as you have a bold and clear message. It is true that the vast percentage end up in the rubbish but it is a numbers game, if you put out 10,000 leaflets and 1% end up in an enquiry that is 100 people who have taken the time to contact you because they are interested on your product or service but the really good thing about it is they are in an area that you have chosen and they are all close together, which maybe close to home so visiting them for quotes etc is easier.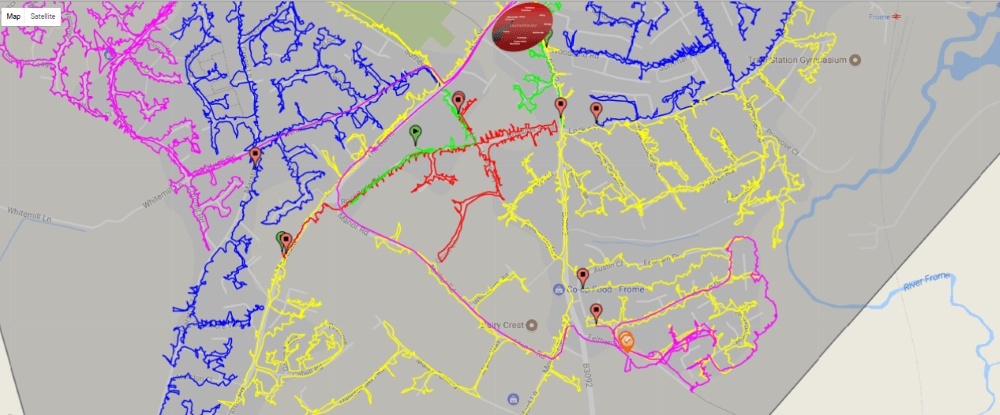 B2B Distribution
B2B leaflet distribution is where a count of the businesses in any area is calculated to give the total number of businesses. Experienced B2B leaflet distributors are then deployed into the area focusing on town centres, business parks, industrial estates and other built up business areas to distribute your leaflets.

The benefit of this distribution over B2B direct mail is that your item is delivered on its own by experienced B2B distributors. In addition to this, it is also able to be more bespoke, for example, a larger pack of items.
Hand 2 Hand Distribution

Hand to hand distribution is the process of distributing (typically promotional printed media) directly to the hands of individuals within a predefined geographical area.

Hand to Hand Distribution can be a rewarding leaflet distribution methodology especially at events. Leaflets, flyers and or brochures are delivered directly to the hands of your prospective customers with the ability to make bespoke requests.



Solus Distribution
Solus distribution is where our team post only your material. It is ideal if you want to target a specific area at a specific time but it does not guarantee that yours will be the only leaflet seen by the customer on that day because we may not be the only people posting leaflets in that area. On most occasions we will be able to call our customer base and get alongside leaflets, if you would like us to, but if we can't and yours simply have to go out at that time then solus could be your only option.
Shared Distribution
If your company is low on budget and cost effectiveness is a must, we recommend you to use our shared distribution services. Due to distributing leaflet orders from more than one client, you will get better cost solutions. As well you have 100% guarantee that your items will never be distributed together with competing businesses. Usually shared delivery has up to 4 different leaflets, but sometimes there may be only one other leaflet, which serves to your advantage.